Acroyoga : serie Beginners and Intermediates - march 2020
The 5/03, 12/03, 19/03, 26/03 & 2/04 | From 20:00 to 22:00
Description
Acroyoga integrates an acrobatic dimension to the practice of yoga and is practiced in pair. Everyone can practice, no need to be an acrobat or professional dancer to take part in this mix of movements.
The benefits
Learn to trust and trust each other
Development of concentration
Strength development (for the base)
Development of flexibility and a sense of freedom (for the flyer)
Practical information
Multi-level Basics series for beginners and intermediates.
With or without a partner.
The place is covered with 180m² of tatami. This makes it possible to be comfortable for the bases and to cushion any falls.
The series takes place in series of 6 Thursdays from 8pm to 10pm:
Thursday, March 5, 2020
Thursday, March 12, 2020
Thursday, March 19, 2020
Thursday, March 26, 2020
Thursday, April 2, 2020
There are still spots. Join usand contact us to know the price for less classes.
The teacher
Steven Heyse
Location
Aorta Training Center
40 rue de la Luzerne
1030 Schaerbeek
This event is related to the class of Acroyoga.
Registration
The number of places is limited. Only 38 places left.
Registration deadline : 02/04/2020
Registration
Cost
75.00€ ( Until 28/02/2020)
85.00€ ( Until02/04/2020)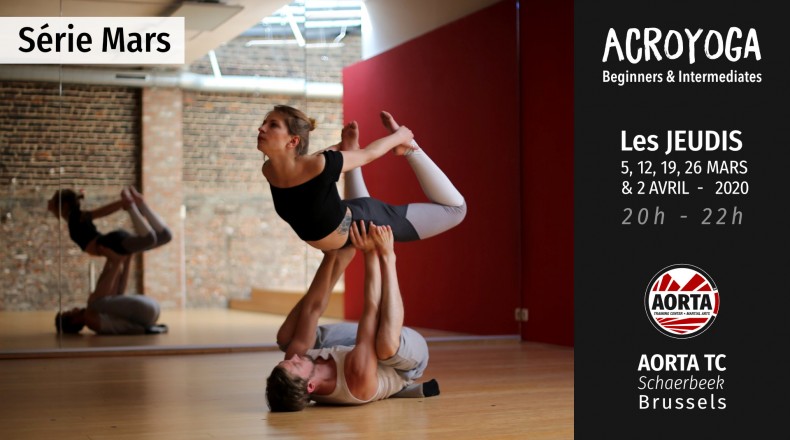 Aorta TC reserves the right to cancel the event if there are not enough registrations.